Hello stamping friends. I just wanted to let you know that I have updated my Retirement Sale List. There are items from the 2022-2023 Annual Catalog, January-April Mini Catalog and more. You can find the list Here. You can email me with any items you would like to purchase at creativestampingdesigns@gmail.com. I will send you a PayPal invoice. You do not need to have a PayPal account to pay. You can also pay me by Zelle. I will send you a total with shipping. I will need your address to get the shipping price please. I try to send it the least expensive way possible. Have fun shopping my list!!
*********************************************************************************************************
Starting tomorrow, June 1st through June 30th, we have an amazing joining special going on. June is a fabulous time to join Stampin' Up! You will get even more FREE products in your customizable Starter Kit! If you sign up between 1–30 June, you can get $125 USD | $165 CAD $155 USD worth of products for only $99 USD + free business supplies + free shipping + all the fun being a part of Stampin' Up!
STARTER KIT+ PROMOTION DETAILS:
When you purchase you Starter Kit, you will be able to redeem $155 of Starter Kit eligible products for just $99.
New demonstrators who submit their Independent Demonstrator Agreement (IDA) before June 1 or after June 30 will not be eligible for this offer.
This offer begins June 1, 2023 and ends at 11:50 PM MT on June 30, 2023.
There is Never an Obligation to sell, you do NOT have to use this as a business, you can join just to enjoy the discount for yourself. I would LOVE to have you on my team. Join as a hobby demonstrator and enjoy all the benefits. All your future orders will be eligible for at least a 20% discount on products ordered. PLUS if you are a demonstrator and there is a special, like the upcoming 15% discount on Designer Series Paper, you will get your 20% discount on top of the 15%. Now that's an awesome deal. This is a great way to get everything you want on your wish list at a discounted price. Enjoy at least a 20% discount on the future products you purchase. Join now and start enjoying that discount right away!!! Contact me at creativestampingdesigns@gmail.com and we can talk about you joining. We have people on our team from all over the United States. We get together monthly via Zoom; we have team Facebook pages where we share what we make and ask questions. This was one of the best decisions I've ever made, I've made a lot of new friends from all over.
Joining Stampin' Up! as a demonstrator offers some fabulous opportunities, including:
Becoming part of our wonderful community
Attending exclusive demonstrator-only events
Having early access to products
Receiving a copy of our catalogs early
Getting a 20% discount on our magnificent coordinating products
Joining our exclusive demonstrator-only Facebook group
Having the opportunity to earn a supplemental income if you choose to make it a business.
Accessing our demonstrator-only weekly newsletter: Succeed Weekly
Receiving training information and accessing resources to help you through your first year and beyond.
I would LOVE to have you on my team. Don't wait until the last minute, contact me today and we can talk about you joining!
*********************************************************************************************************
Starting Tomorrow!! SAVE 15% ON SELECT DESIGNER SERIES PAPERS!
We all love beautiful Designer Series Paper, and in June, you can enjoy a 15% discount on select Designer Series Papers from our new 2023–2024 Annual Catalog and Online Exclusives. Whether you're a scrapbooker, a card maker or simply a paper lover, this is a great time to stock up and save on gorgeous paper, so you have artistic and versatile paper designs on hand for your next projects! Click HERE for a printable PDF flyer.
SALES PERIOD: 1–30 JUNE
All order types qualify for this promotion.
There is no limit to how many packages of Designer Series Paper may be purchased during this promotion.
Only select Designer Series Papers are available at a 15% discount during this promotion.
Orders must be placed—and closed—during the promotion period for the 15% discount to apply.
Designer Series Paper ordered as part of a Starter Kit or with Stampin' Rewards qualify for the 15% discount.
Designer Series Papers are from the new 2023–2024 Annual Catalog (p. 129–132) and Online Exclusives.
ORDER DEADLINES
30 June 2023; 11:59 PM (MT)
*********************************************************************************************************
Spanish Translated Stamp Set Bundle Available In The New Catalog!
Do you speak Spanish? Or know someone who does? Stampin' Up! is excited to share that they have the new Texturas Naturales (161785), a Spanish stamp set, bundle and suite collection in their 2023–2024 Annual Catalog!
Check out this video showing the stamp set.https://www.youtube.com/embed/RGHt4yQu3Zk?version=3&rel=1&showsearch=0&showinfo=1&iv_load_policy=1&fs=1&hl=en&autohide=2&wmode=transparent
And you can find the Spanish translated items in the online store Here
*********************************************************************************************************
Welcome Inn
Subscribe May 11 – June 10
Show hospitality to all your guests with the Welcome Inn Paper Pumpkin Kit! This kit includes nine elegant and detailed cards—three each of three designs. Whether you're hosting friends and family, or want to invite someone over, this kit has what you need to create sophisticated and elevated cards!
You can also pair this kit with a coordinating die add-on! (Available while supplies last. Stampin' Cut & Emboss Machine sold separately). Keep reading to learn more!
The Welcome Inn Paper Pumpkin Kit perfectly coordinates with the Countryside Inn Suite Collection (item number 161474) from the 2023–2024 Annual Catalog! You can use the stamps and paper from both the suite and kit to create cards that are stylish and refined. You can create these elegant hospitality cards using the suite's Countryside Inn 12″ x 12″ (30.5 x 30.5 cm) Designer Series Paper and the kit's beautiful floral cards. There are endless creative possibilities of this kit and suite coordination!
This kit includes:
All the supplies you'll need to create 9 elegant and sophisticated cards—3 each of 3 designs—and 9 coordinating envelopes.
A coordinating photopolymer stamp set with floral designs and friendly, hospitality-themed sentiments.
A Night of Navy Stampin' Spot and beautiful embellishments
Lovely floral details and precut vases
Finished card size: 4-1/4″ x 5-1/2″ (10.8 x 14 cm)
Coordinating Stampin' Up! colors: Balmy Blue, Boho Blue, Calypso Coral, Daffodil Delight, Early Espresso, Misty Moonlight, Night of Navy, Old Olive
Don't forget! This kit perfectly coordinates with the Countryside Inn Suite Collection (Item number: 161474).
Subscribe to the May Paper Pumpkin Kit between 11 May 2023 and 10 June 2023 by clicking here!
Note: Supplies may be limited toward the end of the subscription period.
ADD-ON
Welcome Inn Dies (Available for purchase starting 11 May, while supplies last).
Item number: 163192
$6.00 USD / $8.25 CAD
This add-on includes:
One coordinating vase die: 1-1/2″ x 1-1/2″ (3.8 x 3.8 cm)
One coordinating flower die
One beautiful leaf die
Note: Stampin' Cut & Emboss Machine sold separately.
*********************************************************************************************************
CONFETTI BIRTHDAY KIT
Shake up someone's special day with a happy, handcrafted shaker card! The Confetti Birthday Kit, the newest addition to the Kits Collection by Stampin' Up!, comes with everything you need to quickly create confetti shaker cards—a total of 9 cards in 3 lively designs. Celebrate in style with bright, bold colors, confetti, and birthday greetings full of joy!
This month's kit includes:
Enough supplies to create 9 cards—3 each of 3 designs
9 coordinating envelopes
Confetti Birthday photopolymer stamp set
One Blueberry Bushel Ink Spot
Printed card bases, card fronts, self-adhesive cellophane shaker bags, die-cut pieces, holographic foil labels, adhesive, embellishments, and a clear block
Finished card size: 5-1/2″ x 4-1/4″ (14 x 10.8 cm)
Coordinating colors: Blueberry Bushel, Coastal Cabana, Crushed Curry, Flirty Flamingo, Lemon Lime Twist, Poppy Parade
#162390 $23.00 USD
*********************************************************************************************************
New Branded Merchandise Available in the Stampin' Up! Online Store
Stampin' Up! has some new Branded Merchandise that you can pick up in the online store now! Check out the pretty new grid paper and the awesome decal!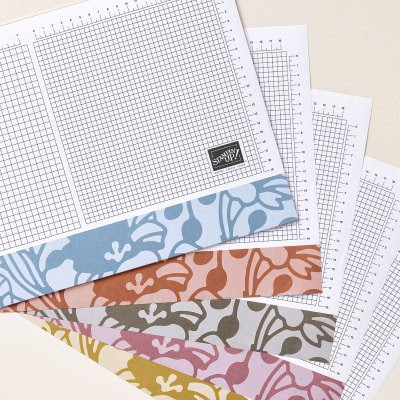 2023–2025 IN COLOR GRID PAPER
Keep your workspace clean and organized with the 2023–2025 In Color Grid Paper! This paper will protect your workspace when you craft while adding a fun pop of color. It has metric and imperial measurements on it to help you with alignment when crafting. Available while supplies last.
Size: 11″ x 17″
Includes imperial & metric measurements
QTY: 25 Sheets per pack (5 sheets of 5 colors)
Product colors: Boho Blue, Copper Clay, Moody Mauve, Pebbled Path, Wild Wheat
Item number: 162439
Price: $9.00
STAMPIN' UP! LOGO VINYL DECAL
Show off your Stampin' Up! spirit with the new Logo Vinyl Decal! Adhere the decal to a variety of clean surfaces. Put it on your water bottle, your computer, or even your car! Available while supplies last.
2 printed vinyl decals
Sizes: 4-3/8″ x 6″ and 3-3/8″ x 4-1/2″
Product colors: Basic White
Item number: 162441
Price: $6.00
You can see all of the branded merchandise in the online store Here.
*********************************************************************************************************
If you need any stamping supplies, I'd love to be your Demonstrator. Just click HERE to go directly to my online store or drop me an email if you have any questions.
MY CURRENT HOST CODE IS: GVEBWYZ6
Use this host code when placing an order with me. When you order $50 or greater you will receive a free gift from me! If your order is over $150, please do not use this code, but you'll still get the free gift. The free gift is your choice of any 1 item valued up to $10.00 from the 2022-2023 Annual Catalog or the January-April 2023 Mini Catalog! Unfortunately, packs of cardstock are no longer an option for a free gift. Shipping has become too expensive to ship and it's costing me as much to ship as the cardstock costs. For any orders $50 or more I will also send you my monthly class tutorials. Click HERE or go to my Customer Rewards for more details and to see what this month's tutorials are.
Please remember to use my current Host Code and make sure that you can see my name on the final checkout page listed as your Demonstrator when you order so that you know that you're ordering with me, and you'll get my rewards!
Happy Stamping, Karen
*********************************************************************************************************
In response to changing policies at Stampin' Up – I'm adjusting my Ordering Gift policy as well. I'm having to get a little more tough on the adding of Host codes when you place your order thru my Online Store.
Not to worry – you're still going to get that $10 ordering gift for orders of $50 (before shipping & tax) or greater. And the gift is still any 1 SU! product up to that $10 value – which includes some of our fun Host Sets!
But – if you DO NOT use the Host code for your orders of less than $150 (this is the RETAIL total before Shipping & Handling), then you'll have two options:
You'll need to call Stampin' Up! (1-800-Stamp-Up) and ask them to add it for you. They're very helpful and will get it done quickly! OR….
If your order was over the $50 threshold but under $150, then…you'll forfeit that $10 ordering gift and rewards – this is the Bummer Option – and I REALLY don't want to do this, SO please remember to add my Current Host Code.