Savings are in Bloom
March 1 – March 31
If you haven't already, it's time to meet your mini crafting companion: the Mini Stampin' Cut & Emboss Machine! If this is your first encounter, allow us to introduce you.
This mini—but mighty—machine is durable, portable, and easy to use. It's the perfect pick for budding beginners who want to branch out, papercrafting pros who want to craft on the go, or those who are short on storage space! With this trusty tool, any crafter can make precise cuts and embossed designs for their projects with one pass.
During the month of March, you can snag the Mini Stampin' Cut & Emboss Machine at a 20% discount! This miniature machine is compatible with a large selection of Stampin' Up! embossing folders and dies. Build your craft collection and combine the Mini Stampin' Cut & Emboss Machine with any (or all!) of the select stamp-and-die bundles that are also available for 20% off during the month of March!
Take your crafting to the next level.
Savings are in Bloom Promotion Details
Promotion Sales Period: March 1 – March 31, 2022
Promotion Ends: March 31, 2022 at 11:50 PM MT
The Mini Stampin' Cut & Emboss Machine will be available for purchase at a 20% discount.
A number of select stamp-and-die bundles that are compatible with the Mini Stampin' Cut & Emboss Machine will also be available for purchase at a 20% discount.
For this promotion only, we've brought back the previously popular Art Gallery, Celebrate Sunflowers, and Garden Wishes bundles. They will only be available in their bundle form during this promotion, so make sure to snag 'em while you still can!
The Mini Stampin' Cut & Emboss Machine and select compatible bundles can be bought together or separately.
There is no limit on the number of Mini Stampin' Cut & Emboss Machines you can purchase during this promotion.
Products are available in all markets while supplies last. Offer may vary from market to market based on product availability. No backorders or substitutions will be allowed.
The stamp-and-die bundles that can be found in a current catalog will be replenished until they retire. When they do retire, the bundles will be added to the Retiring List.
Due to supply chain challenges, this promotion may be altered or ended early. I will notify you if we hear that this offer may be changed or ended before March 31.
You can see the full list of bundles included in the sale on this flyer Click Here for a printable PDF flyer.
*********************************************************************************************************
Now Available Waves of The Ocean Collection
Each of the world's wide and open oceans is brimming with beauty and wonder. Marvelous marine animals, miles of submerged mountain ranges, and unique underwater plants lie thousands of feet below Earth's dry surface, encouraging exploration and awaiting discovery.
Discover the depths of the ocean—and your artistic abilities—with the Waves of the Ocean Collection! This coastal collection includes an inspiring set of stamps and detailed dies, both early-release products from the upcoming 2022–2023 Annual Catalog. Plus, a pack of paper made from images of hand-poured paint, blue-hued foil sheets for a sea of shine, and radiant rhinestones for a splash of sparkle—each an exclusive product you can only purchase during the promotion period!
Explore artistic expression with the Waves of the Ocean Collection. With these seaside supplies, you'll dive into inspiration and swim in a sea of creativity! Keep reading for promotion and product details, marketing tips and tricks, and shareable resources that'll blow you out of the water.
Promotion Details:
Waves Of The Ocean Product Collection available beginning March 1, 2022.
Ordering Deadline: May 2, 2022; 11:50 PM (MT)
The Waves of Inspiration Stamp Set and Waves Dies can be ordered separately, if desired.
The following exclusive products are only available while supplies last:

Waves of the Ocean 12″ x 12″ Designer Series Paper
Blue Foils 12″ x 12″ Specialty Paper
Rhinestone Waves Basic Jewels

Qualifying orders are eligible for Stampin' Rewards. The Waves of the Ocean Collection can not be selected as a half price item.
Click Here for a printable PDF Flyer.
*********************************************************************************************************
ORDERING BONUS FROM ME!!!
I'm offering a little ordering bonus for all orders of $50+ place through me during the month of March! Instead of getting only the tutorials of the month, you'll get six sets of previous tutorials using bundles that are currently on sale plus the March Daffodil Daydream tutorials!
Here are all seven of the tutorials that you'll get:
Daffodil Daydream
Sweet As A Peach
Quiet Meadow
Pansy Patch
Art Gallery*
Hydrangea Haven*
Celebrate Sunflowers*
You'll get the tutorials from me no matter what you purchase as long as your order is $50 or greater during March 2022!
*Some of the tutorials are feature items that are now retired; however, the basic designs can be incorporated with many different designer papers and embellishments.
Click Here for my Online Store and start shopping those, Sales.
*********************************************************************************************************
Robot Buddies Project Kit – Available Tomorrow, March 2!
The latest addition to the Kits Collection by Stampin' Up! is a fun one! With the Robot Buddies Kit, configure cards featuring cute robots and robot themed images that kids will love. Combine your bandwidth to craft this kit together for some offline fun with these awesome, friendship-themed robots!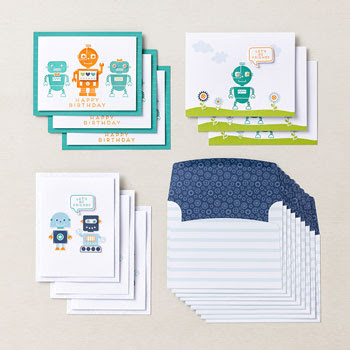 Here are the details for this cute kit:
Kit includes 9 card bases—3 each in 3 designs—and 9 envelopes
Includes sticker sheets and printed die-cuts to decorate with
Includes two Classic Stampin' Ink Spots in Bermuda Bay and Pumpkin Pie
Finished card size: 5-1/2″ x 4-1/4″ (14 x 10.8 cm)
Coordinating colors: Balmy Blue, Bermuda Bay, Granny Apple Green, Night of Navy, Pumpkin Pie
Item Number 159336 – $23
Available to order beginning Wednesday, March 2!
*********************************************************************************************************
Beyond The Horizon
Subscribe February 11 – March 10
From the hands and hearts of our in-house artisans to you—our fellow crafters and creators—comes this month's breathtaking kit. The Beyond the Horizon Paper Pumpkin Kit includes watercolor prints and designs inspired by the beautiful nature around us to create nine cards and coordinating envelopes. And paper pieces that perfectly coordinate with the New Horizons Suite Collection in the January–June 2022 Mini Catalog.
Don't forget the FREE stamp set inside (yes—that's two stamp sets in one kit!) as our way of saying THANK YOU to all of our wonderful Paper Pumpkin subscribers.
With all these marvelous materials and more, we can't wait to see how you take this kit far beyond the horizon!
Details:
This month's kit contains enough elements to create 9 cards—3 each of 3 designs—and 9 coordinating envelopes. This all-inclusive kit includes printed card bases, die-cut paper pieces, embellishments, adhesive, and more!
The Beyond the Horizon Paper Pumpkin Kit includes a Misty Moonlight Classic Stampin' Spot!
This kit's stamp set is perfect for any occasion. With sentiments that say "thanks", "hello", "thinking of you," and so many more, you'll be able to use this stamp set year round.
And if you thought one stamp set was great just wait—this month's kit comes with a BONUS stamp set for FREE! That's two stamp sets in one kit! It's our way of saying THANK YOU to you our Paper Pumpkin subscribers.
That's not all! This kit perfectly coordinates with the New Horizons Suite Collection in our January–June 2022 Mini Catalog Which means even more exclusive elegant watercolor designs curated by our in-house artists just for you!
Card size: 4-1/4″ x 5-1/2″ (10.8 x 14 cm)
Envelope size: 4-1/2″ x 5-3/4″ (11.4 x 14.6 cm)
Coordinating colors: Bumblebee, Calypso Coral, Evening Evergreen, Misty Moonlight, Night of Navy, Old Olive, Pale Papaya
Subscribe to the March Paper Pumpkin Kit between 11 February and 10 March at paperpumpkin.com!
Note: Supplies may be limited toward the end of the subscription period.
********************************************************************************************************
Paper Pumpkin Price Increases Beginning March 1
On March 1, 2022, Paper Pumpkin kits will see a slight increase in price for both month-to-month orders and prepaid subscriptions. Despite Covid's continued strain on the global economy, Stampin' Up! has been working diligently to maintain the lowest possible price for our Paper Pumpkin kits–including absorbing costs to prevent price increases. However, as we continue to see greater cost increases to raw materials, shipping, and overhead, we have made the decision to increase pricing in order to maintain the high quality and value of the monthly kit.

Here are the details:
You will begin to see the price change on paper pumpkin.com
beginning February 11, with the start of the March subscription period.
Shipping added based on order total at time of check out.
Prepaid codes–both redeemed and unredeemed–purchased before the 1 March price change will maintain their full value. No additional payment will be required.
Prices for past kits and refills released before March 1, 2022 will remain unchanged.

Let me know if you have any questions about the price changes.  ***If you purchase Prepaid Paper Pumpkin Kits during February, you'll save a few $$ and possibly earn some free Sale-a-bration items too!
*********************************************************************************************************
If you need any stamping supplies, I'd love to be your Demonstrator. Just click HERE to go directly to my online store or drop me an email if you have any questions.
MY CURRENT HOST CODE IS: R6393VBY
Use this host code when placing an order with me. When you order $50 or greater you will receive a free gift from me! If your order is over $150, please do not use this code, but you'll still get the free gift. The free gift is your choice of any 1 item valued up to $10.00 from the 2021-2022 Annual Catalog or the January – June 2022 Mini Catalog! For any orders $50 or more I will also send you my monthly class tutorials. Click HERE or go to my Customer Rewards for more details and to see what this month's tutorials are.
Please remember to use my current Host Code and make sure that you can see my name on the final checkout page listed as your Demonstrator when you order so that you know that you're ordering with me and you'll get my rewards!
Happy Stamping, Karen